This video shows p value chart problems resolution through example. Described are significant issues with the traditional statistical process control chart practices of Shewhart p chart creation. Provided is a free software app to implement described enhanced reporting practices that apply to SPC reporting and business scorecard KPI reporting.
The dataset used in this example video is from Integrated Enterprise Excellence Volume III – Improvement Project Execution: A Management and Black Belt Guide for Going Beyond Lean Six Sigma and the Balanced Scorecard.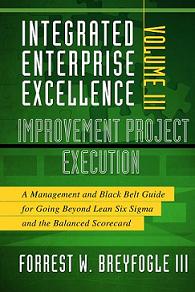 P Value Chart Problems Resolution Video & Free Software
The following figure shows a screenshot of IEE Volume III. This image describes potential applications of the following 30,000-foot-level reporting methodology beyond measuring a p value chart of a failure rate over time.
The dataset (and potential applications of the methodology) used in the following 30,000-foot-level reporting, perhaps as a key performance indicator (KPI) over time, is:
The following figure illustrates the result of a traditional statistical process control chart, p-chart, which shows many out-of-control signals.
However, are these many out-of-control signals valid?
False out-of-control signals can occur in a p-chart since the between-subgroup variation is mathematically considered a potential special-cause event trigger. From a high-level process-output perspective, between-subgroup variation needs consideration as common-cause variability, which a 30,000-foot-level report-out does.
The results of a 30,000-foot-level report-out for this data set is:
The following figure illustrates the result of applying a free app (that anyone can use for tracking the output of their processes) to create a 30,000-foot-level report-out, similar to Figure 13.4 in Integrated Enterprise Excellence (IEE) Volume III.
For this operations performance indicators example, the data using this free app results in concluding that the process is stable with an estimated 2.1% non-conformance rate (shown at the bottom of the figure).
If this anticipated (now and future prediction) response is undesirable, this unsatisfactory measured performance would "pull" to undertake process improvement efforts.
This image's bottom-of-the-chart futuristic reporting is consistent with the non-conformance rate shown in Figure 13.4 of IEE Vol III with this reported percentage. If one were to right-click on the image in this app, they could save the graph as a PNG file to use elsewhere; e.g., a PowerPoint presentation or Word Document.
The following video describes how to create this 30,000-foot-level chart and elaborates more on the problems of a traditional SPC p-chart for this dataset:
Process Performance Indicators Example Application: IEE Volume II and III
There are descriptions of applying 30,000-foot-level process-output failure rate reporting for both Lean Six Sigma project metrics AND business KPI reporting in a 4-book IEE Series. The IEE Volume II in the set provides details for applying KPI reporting techniques at the business level. The IEE Volume III describes using the above process-output-response-metric-reporting techniques at the Lean Six Sigma improvement project execution level. A project's metric baseline would occur in the measure phase of the Define-Measure-Analyze-Improve-Control (DMAIC) roadmap.
Over 140 Datasets and Solutions Manual (P Value Chart Problems Resolution and More Datasets)
The  IEE Volume III Solutions Manual provides over 140 datasets. One can use the above-described app to re-create the 30,000-foot-level metric report-outs in the IEE Volume II and IEE Volume III books, i.e., as described in the above process performance indicators (p-chart enhancement) example.
DMAIC Tools Integration
In applying Lean and Six Sigma, it is vital to use the right tool at the right time. The book Lean Six Sigma Project Execution Guide: The Integrated Enterprise Excellence (IEE) Process Improvement Project Roadmap provides a Roadmap for accomplishing this essential objective.
 Summary
What additional process insight could you gain from the application of the above described 30,000-foot-level reporting app?  This amount of understanding could be huge.
Contact us to schedule a free Zoom session now to see how much you and your organization could benefit from this free 30,000-foot-level reporting app.