What is Six Sigma and how it can be enhanced is a question that should be asked by organizations when undertaking a continuous improvement system.
Six Sigma and its Purpose
Six Sigma (SS) is a performance statistical measure or product or process performance that has opportunities for business management enhancements. Six Sigma is also a system for creating and executing process improvement projects that involve statistical and non-statistical tools.
Motorola originated 6 Sigma in the 1980's. GE under the leadership of Jack Welch began SS in 1995.
6 Sigma improvement efforts address the following:
Customer satisfaction improvement
Reducing defects
Reducing cycle times lead times
Reducing variation
Integrated quality improvement tool usage
Improved end-to-end management of processes
Enhanced process measurements and analysis
Striving for near quality perfections; e.g., 6 Sigma Quality equates to 3.4 defects per million opportunities
Process improvement roadmap DMAIC (Define-measure-analyze-improve-control)
Design of Six Sigma roadmap DMADV (Define-Measure-Analyze-Design-Verify)
Process improvement efforts are executed by Six Sigma Black Belts and Green Belts, who are trained in the execution of the DMAIC roadmap
Process improvement projects are to have finance-verified quantifiable benefits
How can 6 Sigma be enhanced?
Organizations often have difficulty sustaining a SS deployment. Major reasons for this are:
Process improvement efforts are not truly integrated within the overall business management system.
Improvement projects are often selected from a list of opportunities that were not determined analytically by evaluating the business as a whole to determine where improvement efforts should focus.
Integrated Enterprise Excellence (IEE) is a business management system that addresses these issues.
The 9-step IEE system is:

Lean Six Sigma provides a detailed improvement project execution roadmap that is documented in two Integrated Enterprise books: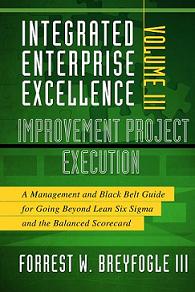 IEE addresses breaks down silo improvement project efforts that often occur in process improvement programs, where this process enhancement work does not benefit the business as a whole:
IEE addresses the business scorecard and process improvement issues described in a one-minute video:
More Information on 6 Sigma and how it can be Enhanced
For additional information about six sigma and how it can be enhanced see:
Contact Us to set up a time to discuss with Forrest Breyfogle how your organization might gain much from an Integrated Enterprise Excellence (IEE) Business Process Management System and its enhanced process improvement implementation.